Rhode Island Theft Crimes Defense Lawyer
Types of Theft Crimes in Tiverton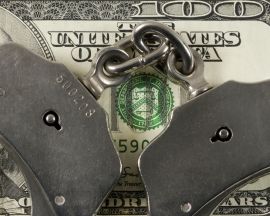 If you have been arrested for a theft crime in the state of Rhode Island, then you should seek aggressive legal representation. Theft crimes occur whether the economy is suffering or doing well and the prosecutors will be looking to enforce the maximum penalty. These types of crimes are harshly prosecuted and can result in serious penalties if you are convicted. If you are under investigation or have been charged with a theft crime, it is important to hire a qualified Rhode Island criminal defense attorney.
The most commonly committed theft crimes would include:
Shoplifting - This crime entails stealing property from a store or merchant. Shoplifting is punishable by a fine of not less than $50.00 or twice the value of the property stolen, whichever is greater. The fine will never be more than $500.00. In addition to the fine, up to one (1) year imprisonment can be imposed.
Larceny – This crime entails stealing property from a person. The value of the property stolen determines the penalty. When someone steals property worth $1,500.00 or less, this is punishable by up to one (1) year imprisonment and/or up to $500.00 fine. If the property stolen is a worth more than $1,500.00 or a firearm, this is punishable by up to ten (10) years imprisonment and/or up to $5,000.00 fine.
Identity Theft - If you steal personal identifying information including someone's Social Security number, their driver's license, or other identification with the intent to commit fraud, then you could be found guilty of identity theft. Identity theft could lead to up to three (3) years imprisonment and/or a fine up to $5,000.00 for the first conviction. Any subsequent offense will carry harsher penalties.
Burglary - This is when someone breaks into a home, business or other building with the intent to commit a felony crime. When the burglary is committed in a home residence, the penalties could range from two (2) to ten (10) years in prison. If the building was occupied at the time of the crime, then the sentence could also include a fine up to $5,000.00. When senior citizens are present during the commission of the crime, the penalties could be increased substantially.
Robbery - This theft crime is which the defendant uses force or the threat of violence in order to steal property from another person. The penalties for robbery vary depending on whether or not a dangerous weapon was used, a victim was injured or if the victim was elderly. First degree robbery carries a sentence of ten (10) years to life in prison and/ or a fine of $15,000.00.
Attorney Robert H. Humphrey has over 30 years of experience and he has successfully defended against a broad range of criminal offenses. Mr. Humphrey has experience as a bail commissioner, which gives him unique insight into the workings of the criminal justice system. He is a former prosecutor, whose expertise in prosecuting misdemeanor cases is an advantage in defending you. He is also the State Ambassador for DUIDLA for the State of Rhode Island.
Experienced Legal Counsel
In order to avoid a criminal conviction, you will need to ensure that your legal rights are protected in the courtroom. Attorney Humphrey has a vast understanding of the criminal process and he has been in the prosecution's shoes. He knows how to build a winning defense and he will vigorously fight for a reduction or dismissal of your charges. Mr. Humphrey handles a wide range of criminal cases including DUI, sex crimes, domestic violence, drug charges, kidnapping, fraud and other violent crimes.
With extensive trial litigation experience, you can feel confident in knowing that Attorney Humphrey is fighting by your side. He has over two decades of experience and he has had great success and he has earned the respect of the courts, his colleagues and his clients. The firm offers a free case evaluation to all potential clients, so call to discuss your charges today- they are available to answer your call 24 hours a day.
---
If you have been arrested for a theft crime, then do not hesitate to contact Rhode Island theft crime lawyer Robert Humphrey at the firm today!
---
Our Wins & Happy Clients
Testimonials
"Thank you for the wonderful way you handled my Westerly DUI case. I was very scared when I was charged with a DUI with readings over .15. However, I knew you were the right man for the job when you picked up the phone on a Sunday and put my mind at ease. Thank you so much for everything you did for me!"
We'll Evaluate Your Case for Free
Let us explain your options. We offer initial consultations at no charge to you. Call (401) 441-5486 or email us today.