National College for DUI Defense
The goal of the National College for DUI Defense ("NCDD") is justice through knowledge. The NCDD is a professional, non-profit corporation dedicated to the improvement of the criminal defense bar through education. The College was founded in 1995 and was created to educate, support and improve the skills of DUI defense lawyers throughout the country. This mission is of vital importance not only to the members of NCDD but to the public they serve. For decades, governmental entities have sought to diminish the constitutional rights of suspected drunk drivers in the quest for more efficient DUI prosecutions. The presumption of innocence has been eroded by the preliminary suspension of citizens' driver's licenses without due process of the law.
NCDD members represent the most experienced DUI defense attorneys in the country. All members of the College must meet stringent requirements and be willing to continually participate in DUI defense seminars to hone their skills to be the best DUI defense attorneys possible. The goal of the College is to serve the public and to give DUI defense attorneys the knowledge and tools necessary to preserve the Constitution and the rights and freedoms of the citizens they represent. I am proud to be a member of the NCDD and to be an advocate who strives for excellence in the defense of those accused of drunk driving.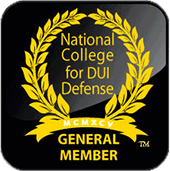 If you or a family member has been charged with drunk driving (DUI/DWI/OUI) or any other alcohol related offense, please allow the reputation, experience and skill of the Law Offices of Robert H. Humphrey to successfully guide you through the legal process. I am available 24 hours a day to assist you and your family. Please contact me at (401) 816-5862 or e-mail me at rhh@rhumphreylaw.com for a free case evaluation.
Our Wins & Happy Clients
Testimonials
"Thank you for the wonderful way you handled my Westerly DUI case. I was very scared when I was charged with a DUI with readings over .15. However, I knew you were the right man for the job when you picked up the phone on a Sunday and put my mind at ease. Thank you so much for everything you did for me!"
We'll Evaluate Your Case for Free
Let us explain your options. We offer initial consultations at no charge to you. Call (401) 441-5486 or email us today.