Rhode Island DUI: Breath Tests
DUI Breath Tests & PBTs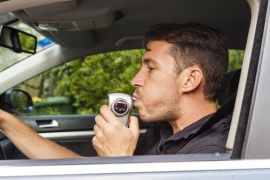 Driving under the influence of drugs or alcohol (DUI) is a serious criminal offense involving the use of a motor vehicle. Most drunk driving arrests arise out of a motor vehicle stop by a police officer. PBT (preliminary breath tests) are administered by police at the scene of the motor vehicle stop. The test is designed to help police and determine if there is probable cause to arrest the motorist for drunk driving. The scientific technology of a PBT is very similar to the Breathalyzer machine utilized at the police station.
Breath tests are administered at the police station by a certified Breathalyzer operator. Both the police officer administering the test and the Breathalyzer machine must be properly certified. A breath test consists of two parts, which require a motorist to breath into a tube. The breath test can only be conducted after a motorist has been under constant observation for at least fifteen (15) minutes. Breath tests are scientific tests which determine how much alcohol is in an individuals' system. Any motorist with an alcohol level of .08 or higher is legally intoxicated.
Although breath tests are regarded to be one of the most effective methods of determining BAC in a driver, this does not mean that they are without their failures. If your Rhode Island DUI lawyer is sufficiently educated in the various types of breath tests as well as common problems associated with those particular methodologies or actual test devices, then you may stand a much greater chance of disproving the charges levied against you. If the accuracy of a particular breath test can be disproven, then this removal of critical evidence often puts the entire prosecution's case in jeopardy.
Can a breath test be successfully defended in court?
Breath tests are traditionally known to be very dependable devices that return an acceptably accurate blood alcohol content in a driver who is suspected of DUI. It can be very challenging, if not impossible to build a proper defense against breath test evidence unless your attorney is well versed in the technology behind the tests.
As the founder of Law Offices of Robert H. Humphrey and having formerly served as a prosecutor in drunk driving cases, Attorney Humphrey brings unique insight to a legal defense in terms of how a prosecutor may design their approach, and how best to defend against it. The earlier the firm gets involved, the faster we can get the defense strategy for your case in motion. There is little time in DUI charges, and you are urged to contact this firm today.
Our Wins & Happy Clients
Testimonials
"Thank you for the wonderful way you handled my Westerly DUI case. I was very scared when I was charged with a DUI with readings over .15. However, I knew you were the right man for the job when you picked up the phone on a Sunday and put my mind at ease. Thank you so much for everything you did for me!"
We'll Evaluate Your Case for Free
Let us explain your options. We offer initial consultations at no charge to you. Call (401) 441-5486 or email us today.