Rhode Island Hit and Run Attorney
Criminal Defense Lawyer Representing Rhode Island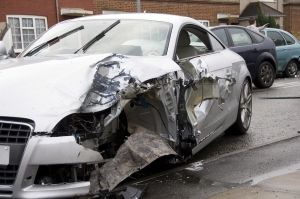 If you have been charged with a hit and run (leaving the scene of an accident) offense, you should obtain solid legal counsel right away. Law enforcement and the criminal justice system deal with hit-and-run offenses harshly.
As a result, you could be facing severe penalties that could impact your liberty and future.
By getting the representation of a Rhode Island criminal defense attorney for your case, you significantly improve your chances of retaining your freedom and avoiding severe punishment.
Speak with a lawyer as soon as possible to find out more about options for your specific case.
Is Hit and Run a Felony in Rhode Island?
In Rhode Island, a driver who leaves an accident scene that results in injury or death to another person faces felony charges and is subject to punishment by up to five years in prison, a $5,000 fine, or both.
The Rhode Island hit, and run laws require the driver of a vehicle involved in a car crash or other accident that causes property damage, injury, or death must stop the vehicle at the scene of the accident.
The penalties are enhanced if severe injury, death, or drunk driving is suspected. Therefore, if you want to avoid lengthy imprisonment and lose your license, you should have strong and knowledgeable legal help.
Attorney Robert H. Humphrey may be able to get the charges against you dismissed or reduced.
A Rhode Island Hit and Run Lawyer May Be Able to Help
This is not a charge you should face on your own. Hit and run is a serious allegation, and you need an attorney who has the skill and reputation in criminal defense that you can trust. Attorney Humphrey is dedicated to helping clients get the best outcome possible and takes your best interests to heart.
---
See what can be done about the criminal charges against you. Then, contact a Rhode Island criminal attorney to schedule an initial consultation today!
---
Our Wins & Happy Clients
Testimonials
"Thank you for the wonderful way you handled my Westerly DUI case. I was very scared when I was charged with a DUI with readings over .15. However, I knew you were the right man for the job when you picked up the phone on a Sunday and put my mind at ease. Thank you so much for everything you did for me!"
We'll Evaluate Your Case for Free
Let us explain your options. We offer initial consultations at no charge to you. Call (401) 441-5486 or email us today.